Modern collaboration and CRM tools can help your employees manage workloads and keep customers happy. But it's even better if you can get all these different tools to work perfectly in sync. That's why we started creating integration apps for Zendesk's customer experience and sales software. Up this week? A Zendesk marketplace app for our very own favorite project management tool: Asana.
In most organizations, the software landscape is a motley collection of bits and pieces. You start with a few software licenses in the beginning, integrate some new tools after a while, and add additional cloud services on the way. And while all these different tools add value to your organization (or that's the idea, at least), they don't always work together seamlessly. So, you get double data, more work and rising frustrations.
But if technology can create the issue, it can provide the solution as well. That's what we believe. So, last year, we started building our own marketplace apps that get your third-party tools to talk to your favorite Zendesk software. Now nothing gets lost in translation. And why not start with Asana, the no. 1 project management tool we like to work with daily?
From Z to A (and back again)
As stated on their website, Asana 'reduces work about work'. That sums it up pretty neatly. This work management tool provides your teams with a clear insight into ongoing projects with all the various subtasks. By visualizing your work in a kanban-like interface, everyone knows exactly who's doing what, by when. The result: less talking about work, more getting things done.
Doesn't that sound like the perfect addition to your Zendesk instance?
That's what we thought, so we built our Asana Integration App. This new marketplace app allows you to escalate Zendesk tickets directly to Asana. In the Zendesk interface, you can create new tasks, link them to an Asana project and assign them to your team members. In this task, you can find or add:
A due date
Extra notes
A link to the Zendesk ticket
… and yourself (as a follower)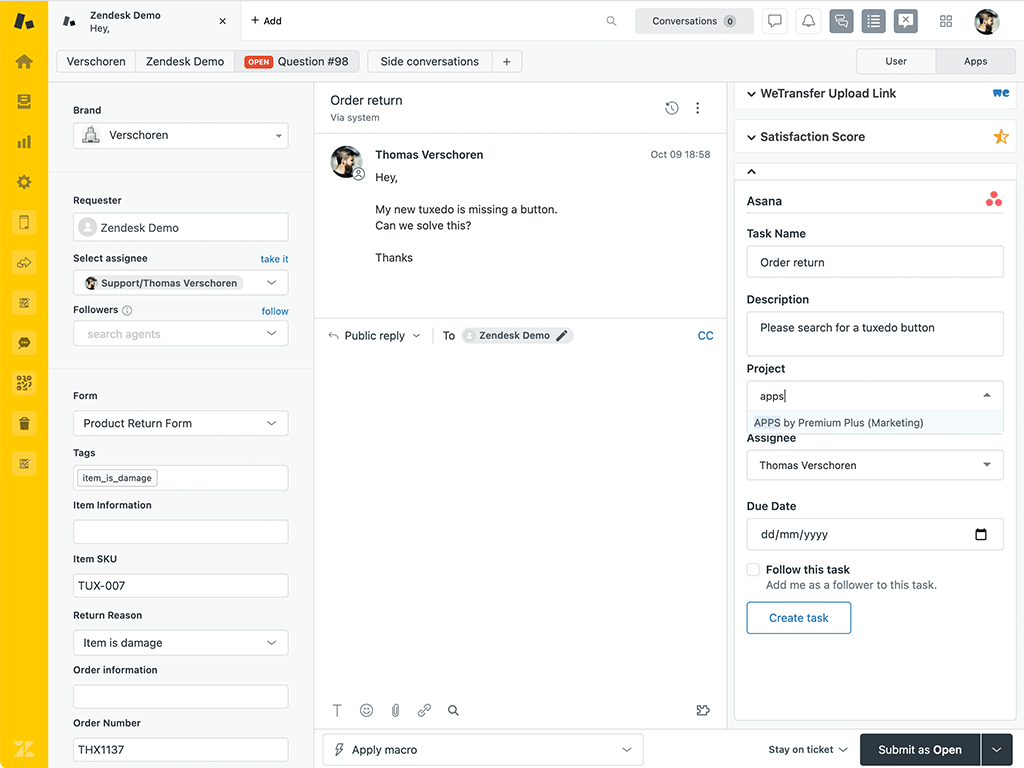 What's more, the Asana task is also featured on the sidebar app next to the Zendesk ticket. That way, you can easily follow up on the status of pending tickets, check who's the assignee, and see when the task is due. In one click, you can also open the task in Asana and unlink it as needed.
So, if you're already a Zendesk enthusiast like us, and you're (planning on) using Asana, why not give us a ring? We'll gladly help you set up the integration. Rather looking for your Zendesk instance to meet a specific need? Sure, we can! Visit our apps section on https://premiumplus.app and find out what we can do for you.