Club Brugge and Premium Plus make the Club ID launch a smooth user experience
Club Brugge is an established player in Belgium's top football league, with sixteen national championship titles – three of which in the last five years – and eleven Belgian Cup victories. The club also has a loyal core of supporters and in the last season, attracted more than 25,000 supporters per match on average.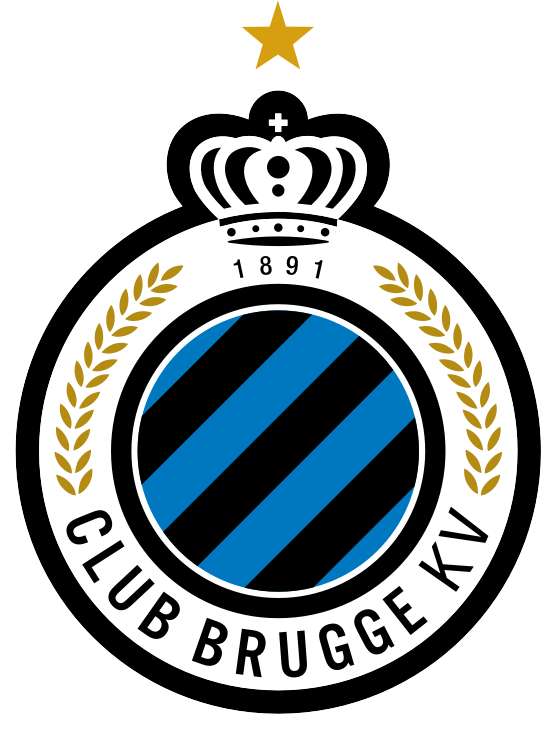 To ensure an optimal experience for the many thousands of regular fans and occasional visitors and to gain a better insight into the supporters' experience, Club Brugge has introduced the Club ID. The Club ID has replaced the old membership and meant a sensitive change for the fans. Club Brugge expected to receive a barrage of questions and reactions at the launch. That's why the project team wanted to have a comprehensive FAQ page ready that would answer most of the expected questions before they were even asked. The goal? To avoid overwhelming the helpdesk staff in one of the season's busiest periods.
When Club Brugge started looking for the best platform to help lighten its helpdesk's tasks, they soon found Zendesk. "However, this supplier seemed reluctant to give us the support we needed, so we started looking for another platform", says Gauthier Vervaeke, Head of Merchandise and E-commerce at Club Brugge. When Kurt Pinoy, CEO of Zendesk partner Premium Plus, found out about this, he still managed to persuade Club Brugge to consider collaborating with them. This is how Premium Plus became the one-stop-shop for development, service, best practices and also the Zendesk licences.
"After a great meeting, where we found that both parties were indeed on the same wavelength, we decided to team up with them", says Vervaeke. "In this way, we had the best of both worlds, namely a reputable customer support platform and a reliable partner that supports its customers in both words and actions. Without the right partner, any technology can turn out to be the wrong one," he concludes. Club Brugge had tried using Zendesk as a customer service tool once before, but it didn't work out. "That was because we had no support or clear objectives. After the meeting with Kurt, we realised that it's not the tool but the guidance that makes all the difference."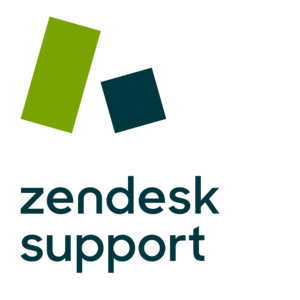 There was just one small 'detail': the project had to be completed within less than a week. "But that didn't put off Premium Plus either," says Gauthier Vervaeke, "they set to work immediately and got the job done within a week. Using their advice and tips, we filled the FAQ page with useful information in just a few days and we were able to implement the Club's branding. What's more, our staff received the necessary training. Everything and everyone was ready. Furthermore, someone from Premium Plus was present on the day of the launch. This meant that we could quickly automate a few more things and finish the day without stress or a bulging mailbox."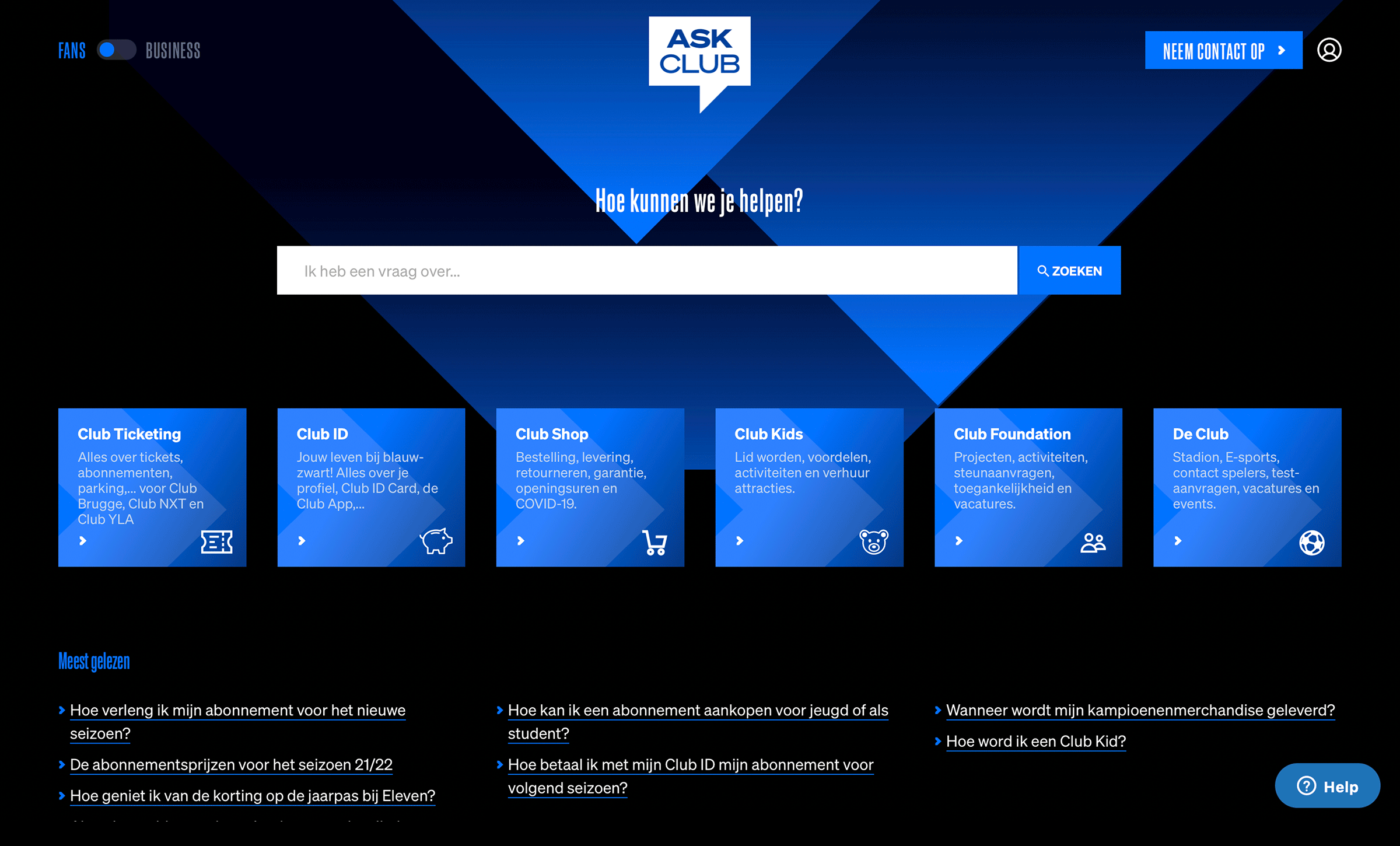 The Club Brugge FAQ has quite a unique setup. Fans and businesses wanting to support the club have very different questions and the help center needed to reflect that. So we created a handy toggle to switch between 'Fans' and 'Business' and changed the main colours of the business FAQ to make a clear distinction between the two.
The strategy we followed was the right one because thanks to its comprehensive FAQ section with answers to all the most frequently asked questions, the FAQ page was particularly well used and the helpdesk staff were not overwhelmed. This allowed them to concentrate on the questions and problems where they could really add value. "Our landing page had thousands of visitors, and our helpdesk staff only had to assist a few dozen people. In the following days, the online information combined with personal assistance ensured that all the applications for the new Club ID could be processed smoothly. You could certainly say that with just eight phone calls and seventy tickets out of more than 35,000 members, we had a successful launch", Gauthier Vervaeke is proud to say.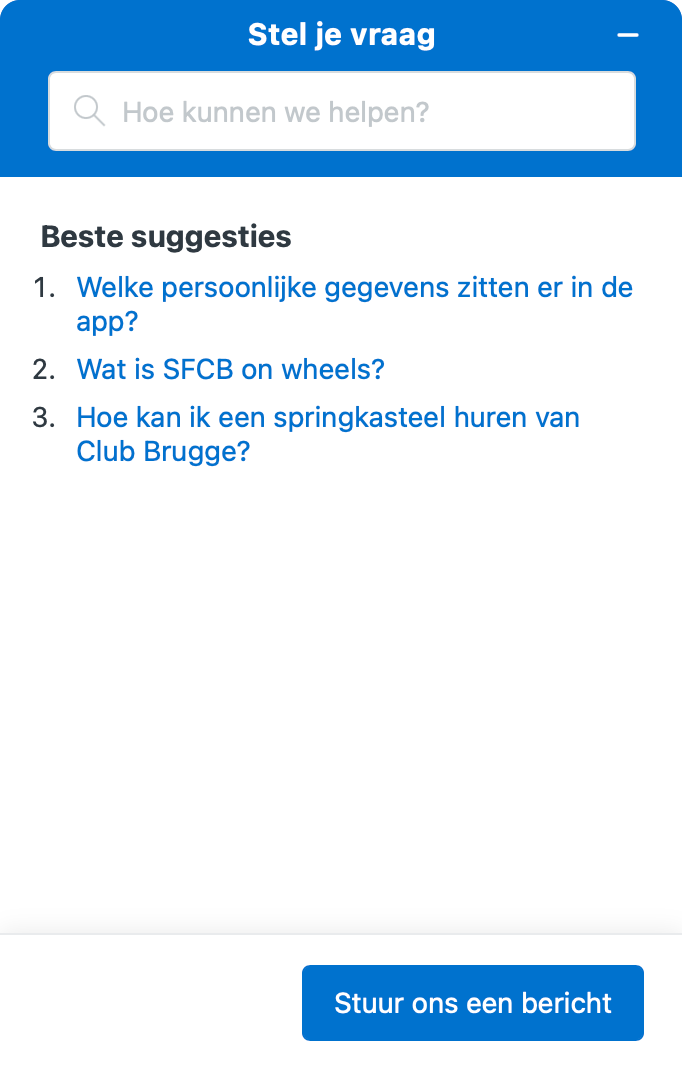 Premium Plus customer since
Number of Club ID holders
Number of tickets on launch day
Number of articles reads on launch day
The Club ID pages were so successful that Club Brugge decided to make their FAQ available in their mobile app. Fans can now search the knowledge base from their smartphones and ask questions right there in the app.
Later on, other departments were connected to Zendesk as well. For example, information about next year's season tickets was added to the FAQ and they set up a dedicated page for their popular face masks, of which they sold 85,000 pieces. "They were such a success that our supplier couldn't deliver them all. We used Zendesk to inform everyone about their orders and expected deliveries", concludes Gauthier Vervaeke.
Meanwhile, Premium Plus and Club Brugge keep looking for ways to lighten the helpdesk's tasks even further. For example, by automating answers and responses to the most frequently asked questions and complaints. Because one thing is certain, the platform set up by Premium Plus is going to grow in the future. "Our objective is to channel all customer contacts via the Zendesk platform", says Gauthier Vervaeke. "We have no doubt that Premium Plus is the best partner for this."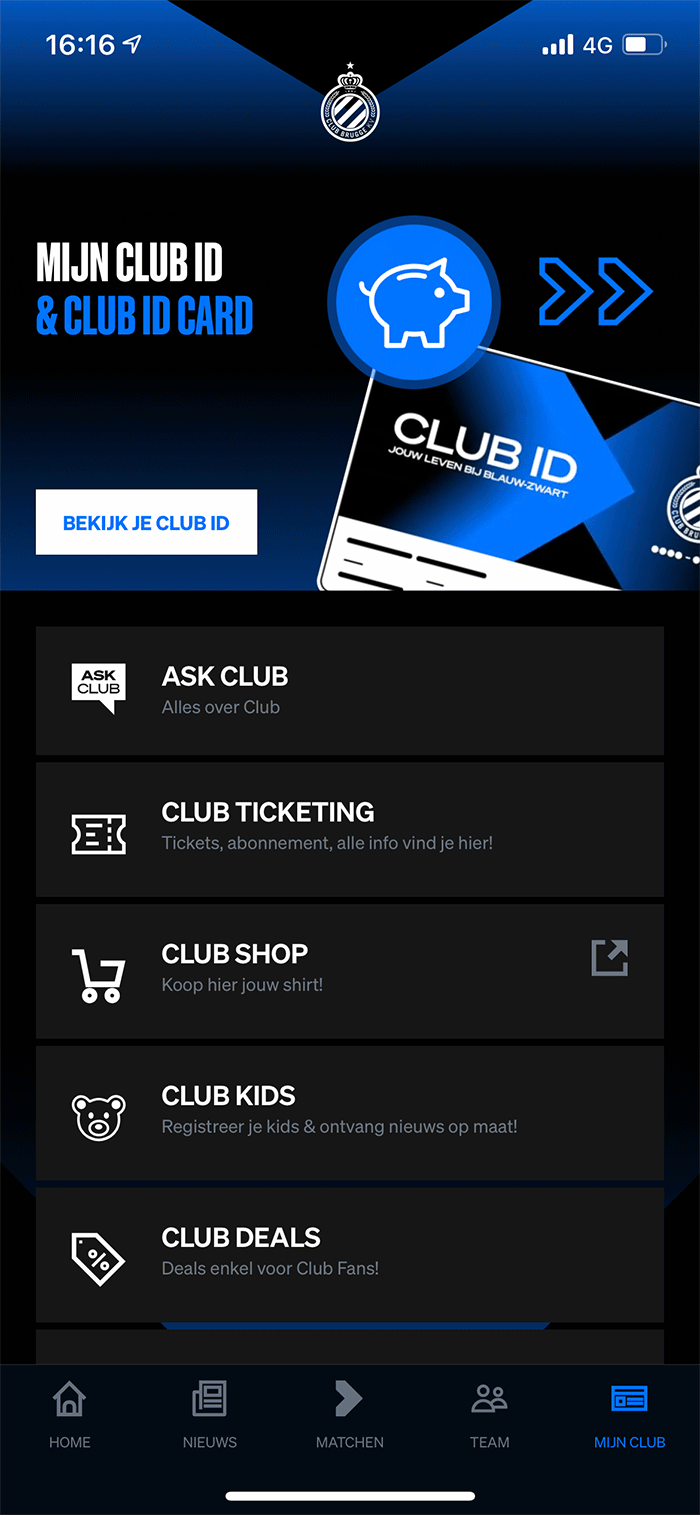 No Premium Plus // No Glory
Licensing of Zendesk tools 
Setup & implementation of Zendesk instances
Staffing
On-site training and consultancy
Custom app development for integration between Zendesk and Lightspeed
Mobile SDK integration in the Club Brugge app
Inspired by this project?
Our team will be happy to look at what we can do for you. Let's get together and talk about your requirements.